This article is the second in a series and forms a core area of research carried out by Aapti Institute's Data Economy Lab. As part of this study, models from four cities (London, Seattle, Los Angeles and Barcelona) were selected and analyzed to understand how data sharing in mobility is currently carried out. These models represent innovative mechanisms for how data may be effectively shared and are critical to consider for their respective strengths.
Nevertheless, challenges still exist in sharing this data, which arguably reinforce the need for Stewardship in Mobility. Each model has different mechanisms for governance, legal concerns and third party sharing. Through this series, we also explore opportunities for data stewardship and how this framework may be useful in solving for issues like lack of accountability and transparency. Stewardship may also enable better control over data and safeguard privacy rights.
Read Part 1: Transport for London here
Part 2: Seattle Transport Collaborative
The Transport Data Collaborative (TDC) is a collective initiative by the University of Washington (UW), Washington State Transportation Center (TRAC), iSchool Data Lab, Urbanalytics, and Urban Infrastructure Lab. TDC is further supported by the Technology and Civic Engagement Group at Microsoft.
In 2017, Seattle launched a pilot for a dockless bike permit system with UW. As part of a 1-year pilot, specific Mobility Service Providers (MSPs) were required to adhere to regulations that detail safety requirements, parking rules, and minimum service levels. Regulations also specified data sharing through a standardized API. This included anonymized user demographic data, along with granular data. MSPs had the choice of sharing this data with the Transport Data Collaborative or the city directly.
What does this mean in the context of Data Stewardship?
Seattle's Transport Data Collaborative is useful to consider as a model of Data Stewardship. UW operates as a steward where it stores, negotiates and provides access to data and analyzes and maintains security and privacy through technical measures.
There are a number of lessons that can be derived from this model:
Neutral & Independent Governance: UW functions as a 'neutral' steward that acts as a trusted intermediary between Seattle DOT, MSPs and the public. This also includes ingesting, processing and analyzing data for research purposes. As an intermediary, UW's primary role is to ensure data is unlocked and shared responsibly in a way that aligns to privacy policies
Multi-stakeholder Collaboration: The Data Collaborative keeps an open channel of communication with MSPs and cities to form dynamic agreements while balancing stakeholder interests and privacy. This builds trust and confidence necessary for effective Public-Private Partnerships and incentivizes data sharing.
Technical Innovation & Privacy Preserving Measures: TDC adopts a number of measures like Synthetic data generation, which can protect detailed location data from being re-identified. These measures also enable MSPs to maintain privacy over proprietary data and encourages these companies to share data.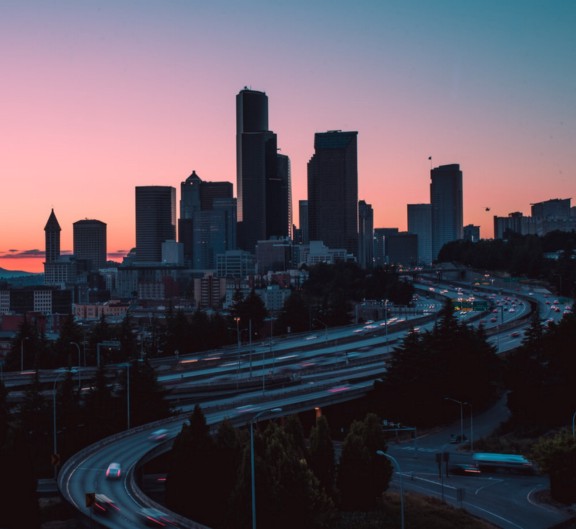 Data Sharing
Modelled on medical data repositories, TDC manages and stores mobility data. The model presents an alternative to the 'open' vs 'closed' dichotomy of data sharing. TDC can unlock PII & Non-PII data from MSPs and make it available to stakeholders through two main approaches:


As part of the pilot, the Seattle DOT permitted 3 MSPs to provide TDC with data on a weekly basis either via API or spreadsheet. UW signed separate Data Sharing Agreements with all 3 MSPs. Data Usage Agreements are evaluated by TDC and MSPs on a regular basis.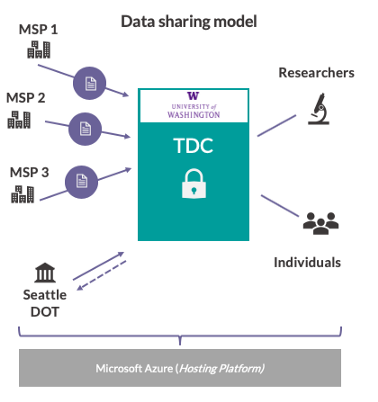 UW aggregates data and provides Seattle DOT with monthly reports. Similarly, synthetic datasets are generated to be shared with individuals and researchers. TDC hosts data and it is currently partnered with Microsoft for their cloud and compute services.
Governance
TDC is governed by UW, who plays the role of a data steward and facilitates data sharing between multiple stakeholders. TRAC is funded by Washington State, Seattle DOT as well as other federal bodies. Third Parties are brought in by UW for analytical support or privacy expertise.
As this may be defined as a 'research project' for UW, data collected may be subject to Institutional Review Board (IRB) standards and governance procedures. This could mean that mobility data is treated as 'human subjects; data'. This comes with a range of audit measures and protections to ensure misuse does not occur and ensures there is transparent usage of data.
This includes: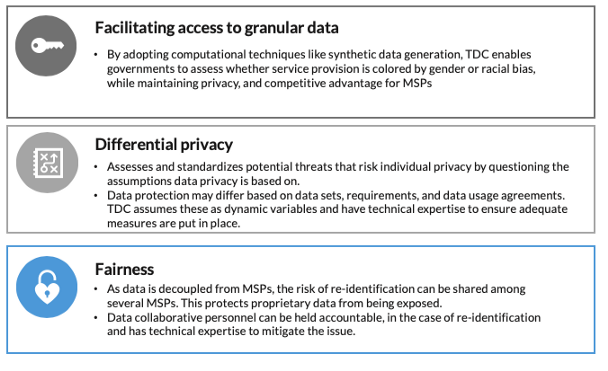 TDC's technical architecture is also conducive to storing multiple forms of data in a secure and scalable way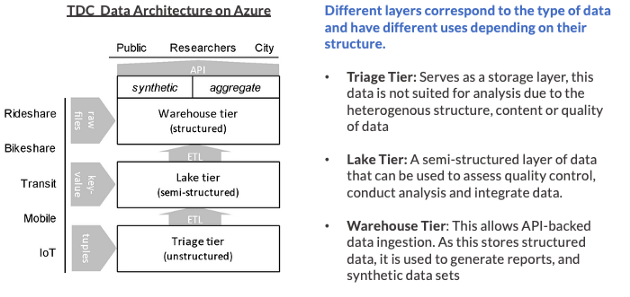 This architecture enables restricts or enables access based on the stakeholder. Certain stakeholders have access to their own data but may be restricted in accessing other synthetic data sets. This model allows for a log to be created which lists data interactions and serves as an audit for users of data.
Takeaways: Transport Data Collaborative & Data Stewardship
Lowers transaction costs typically associated with unlocking proprietary data from MSPs. TDC cleans, aggregates and sends reports on a consistent basis to Seattle DOT. This does not require the government to create a privacy infrastructure to host, provide access or share sensitive data.
Technical measures and differential privacy data techniques allow MSPs to maintain privacy while sharing proprietary data. This enhances trust in the process of sharing which facilitates an amenable relationship between the city of Seattle and MSPs that may allow for easier auditing and enforcement processes.
While there are clear successes to the TDC model, it remains unclear whether the data it collects and stores is subject to IRB guidelines. Moreover, limited information exists on the legal structure of the TDC and how it is governed by domestic law.
Open Questions:
What is the potential for scale with the Transport Data Collaborative model?
On what basis can data rights and protection extended by TDCs governance structure be grounded in a legal framework?